Dans la rubrique , le 20 juin 2011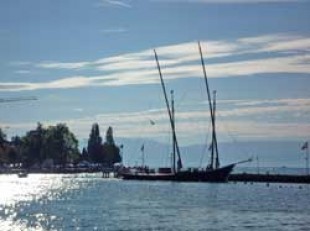 You envision purchasing real estate in Haute Savoie...

Haute Savoie is a dynamic department that is attracting ever increasing attention for several reasons. Yours might be either professional or personal. The department has numerous assets, drawing as much attention for its cultural and economic benefits as for its geographic location.
Situated along the border of the Rhône-Alpes, close to Lyon, it is an area that shares its frontiers with Switzerland to the north and Italy to the south. Haute-Savoie is separated into five large sectors:

- In the north, Le Grand Genevois: with close proximity to Switzerland and the economic pulse of Geneva, the French cities of Saint-Julien-en-Genevois, Archamps, and Annemasse are experiencing constant development.

- Le Chablais and the southern bank of Lake Geneva: you will appreciate Evian, a small, charming town famous for its water cures, hotels, casino, and newly constructed international conference centre. It is also the site of the renowned Evian Master's Open, Thonon-les-Bains, a beautiful sous-prefecture on the edge of the lake, Douvaine, which is near the Swiss border, Bons-en-Chablais, situated on the side of a mont, and Yvoire a typical medieval village.

- Situated in the centre is La Vallée de l'Arve with its cities of La Roche-sur-Foron, Bonneville, Cluses, Sallanches - a beltway between the north-west and the south-east of the department. It is well known as an economic force and industry in addition to being a dynamic force for information services.

- The Bassin Annecien :
Annecy : A city classified as an art and historical centre offers a high quality lifestyle in an exceptional locale on the banks its lake and at the foot of Alpine mountains. Its ancient city center, has a great deal of charm, with pedestrian streets filled with shops and boutiques bordering breath-taking homes of typical Savoyard architecture.

Surrounding areas : Annecy-le-Vieux, Balme-de-Sillingy, Sillingy, Meythet, offer urban vistas and pleasing, highly prized rural landscapes just 30 minutes from Geneva. This is made possible by a new direct motorway.


Communities bordering the lake : Veyrier du lac, Menthon-Saint-Bernard, Talloires, Doussard and Saint-Jorioz are very much sought after.

- The mountains : le Pays du Mont Blanc, le Faucigny, les Aravis and the Verte and Giffre valleys house a number of ski resorts, cities and villages full of character.
You'll love the region between lakes and mountains, as popular in summer as in winter
In summer mountain climbing, hiking, horseback riding, mountain walks, paragliding, fishing, lake cruises and spas attract many French and foreign visitors.
In winter tourists come to Haute-Savoie for the many prestigious ski resorts such as Chamonix, Megève, Flaine, Les Portes du Soleil, Morzine, Saint-Gervais-les-bains or for family-friendly ski resorts such as Combloux, Les Carroz-d'Araches, Les Gets, Abondance, Le Grand-Bornand, Châtel or La Clusaz for Alpine and cross country skiing or snowshoe trekking. Races such as Le Kandahar are held in Chamonix.
This region is also known for a cultural heritage comprised of museums and châteaux, ancient cities such as Annecy and Yvoire, and the numerous festivals that enliven the region, including the cinema of animation at Annecy, music in Evian and Thonon, comedy at Saint Gervais, theatre at the Grand Bormand, Earth Sciences and the Science of Man in Chamonix.
For those coming to Haute Savoie for professional reasons - some major economic sectors :
- Mechatronics in the Arve Valley and notably in Cluses
- Construction, food and beverage, catering and hospitality
- Services for business and individuals are rapidly growing
- Traditional agriculture - still a vital part of the economy
- Developing research: in Annecy and Archamps, business centres close to the Swiss border and Geneva, as well as the competitive mechatronic hub, "Arve Industrie".

Big companies such as La Société des eaux minerals d'Evian, Entremont, SNR, Téfal, Salomon and Somfy established themselves in this region several years ago
Easy access
The A40 and A41 lead to Bourg-en-Bresse, Lyon and Paris on one side and Chambéry, Grenoble and Valence on the other. The Mont Blanc tunnel links Haute Savoie to Italy between Les Houches and Courmayeur. Turin and Milan are approximately two to three hours away.
The airports in Geneva and Lyon offer a number of short connections to French and international cities. There are low-cost airlines with more than 20 international destinations departing from Geneva, including London, Berlin, Barcelona, Amsterdam, Madrid, Birmingham, Brussels, Budapest, and Rome.

Should you become a "frontalier", working in Switzerland and living in France, you can commute by boat, thanks to the CGN on Lake Geneva which departs from Evian or Thonon to Geneva, Lausanne or Nyon.

Housing in Haute Savoie and in the French Alps - adapted to the characteristics of the landscape
In the town centres, you might prefer a modern or period apartment. Housing is comprised of varying styles and periods. In the centre of Annecy you can find very old homes, including those medieval dwellings termed "Colombages". In Annemasse or Thonon, homes are often in traditional Savoyard style. It is not difficult, however, to locate more modern and functional homes in the centre of town or the nearby outskirts. There was a large increase in the construction of new multi-family homes and rental investment properties in 2005, 2006 and, especially, in 2007. More than 8,000 to 10,000 new apartments have been constructed in the last three years alone.
As for single family homes, you can expect to find quality town and country homes, modern architecture, traditional villas with gardens, and often, magnificent lake or mountains views and prestigious properties, especially near Geneva, Annecy and Thonon-Evian. On the banks of the two lakes, you can search for farm buildings, family mansions, lake front properties, manor houses or castles.
In the mountains, you find the charm of handsome traditional chalets, small or large, newly constructed or period, Mazots, old and often immense farms to do-up or renovated. There are also a number of lovely small co-operative residences in the chalet style.
Cote Acheteur Haute Savoie, is your partner. Your buyer agent is there for all of your real estate needs - in Annecy and Evian, in Annemasse or Chamonix and in the whole of the Haute-Savoie.
Throughout Haute-Savoie, in the cities, rural areas, lake front or mountain, I will conduct a methodical and efficient search to locate the appropriate apartment, house, chalet or property that will meet your needs.
Laurence Secrétant-Renoul
LSR Recherche Immobilière
Coté Acheteur Haute-Savoie.